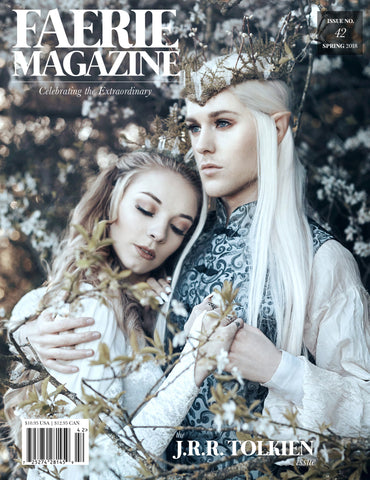 Sold Out
Faerie Magazine Issue #42, Spring 2018, Print
$ 10.95
This product is unavailable
Issue #42 is our Tolkien-themed spring issue, featuring stunning elven shoots by Bella Kotak and Ana Isabel, as well as interviews with Alan Lee and Daniel Reeve, a look at Hobbiton and an elf school in Iceland, recipes for a sumptuous hobbit breakfast, elven beauty, tutorials on elven hair and making an elven crown, tips for making your own home more Tolkienesque, and much more!
This issue will be in stores and subscriber hands in March!
Order the issue, or subscribe today! One year (four issues) is $32; two (eight issues) is $52. Additional shipping charges for orders outside the US.