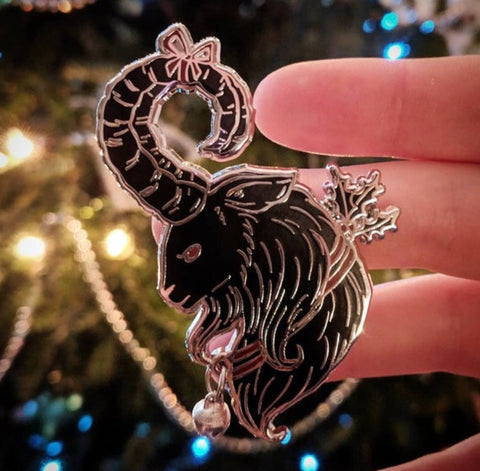 Yule Goat enamel pin
$ 14.00
Celebrate the Yule season this year with a Yuletide classic, the Yule Goat. Part of the Pickety Witch's special limited Yule collection, this pin is a perfect companion to Krampus.
The Yule Goat (or Julbock)'s origins date back to ancient Pagan festivals, connected to the Norse God Thor. As it was adapted into Scandinavian Christmas traditions, the role of the Yule Goat changed to St. Nicholas/Father Christmas riding on the Yule Goat.
This particular Julbock is on Krampus's team, and can be seen pulling his sled as the man-goat demon makes his stops to discipline bad children. 
Each pin is:
-hard enamel
-60mm tall
-6mm jingle bell attached to hoop
-two pin backs